Test the on-site motor shaft to ground voltage. If shaft voltage appears, follow the scheme below to deal with it.
(1) Consider reducing the shaft potential. Install a grounding carbon brush at the shaft end to ensure reliable grounding and reliable contact with the rotating shaft to prevent the turning potential at zero potential to eliminate the shaft current.
(2) Cut off the shaft current loop. Increase insulation isolation at the non-drive end bearing seat and bearing bracket to prevent shaft current.
(3) Check the degree of damage to the insulation of the motor accessory wire. Use maintenance opportunities to check and strengthen the insulation of wires or gaskets to avoid shaft current caused by damage to the insulation of the wires of the motor accessories.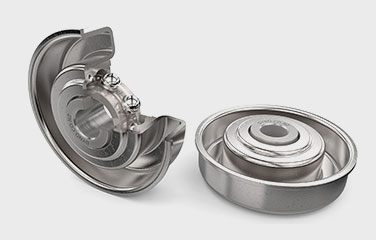 (4) Check the insulation strength of the bearing housing frequently. For motors that have adopted insulation and isolation measures between the bearing support and the bearing, the insulation strength of the bearing seat should be measured regularly with a 500 V megohmmeter, and it should not be less than 0.5 MQ. If the test value exceeds the standard, the insulation isolation should be reprocessed until the test is qualified.
(5) Keep abreast of the temperature rise of the bearing and maintain the purity of the lubricant insulation medium. Regularly check the motor bearing temperature and the quality of the bearing lubricating oil, analyze the bearing temperature rise in time according to the load, ambient temperature, etc., find out the cause of the temperature rise and deal with it in time. For bearing-type motors, if water is found in the lubricating oil, it must be filtered, otherwise the insulation strength of the oil film will not meet the requirements, and it will be easily broken down by low voltage.